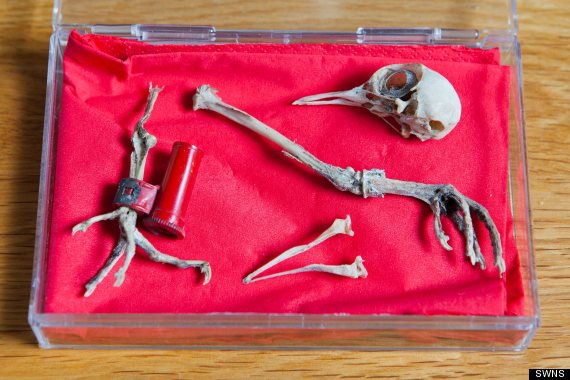 Back in July 7, 2009, I added an entry on this blog about Bletchley Park, a super-secret World War II cryptograohic center in England used by both British and American forces to decode intercepted Nazi communications. This was also in effect the birthplace of computers. NOW, November 1 2012, comes news of a startling new development.
David Martin, 74, of Surrey in England recently decided to restore a long-disused fireplace in his home. Upon clearing out the chimney he discovered the skeleton of a long-dead carrier pigeon complete with a message tube. Most likely enroute from German-occupied Europe to Bletchley Park, it carried a coded message. The bird probably stopped to rest after the long cross-channel flight, became overcome by fumes from the chimney, died, and fell in. The message is now at Bletchley being decoded. What will it say? Is it still top secret? Stay tuned.
Carrier pigeons have long been used by military forces to carry messages, and can reach speeds of 80 mph on distances of up to 700 miles. The RAF trained about a quarter-million such birds during World War II. They were dropped into Nazi territory using mini parachutes. Our intelligence agents on the ground then inserted messages into their red tubes and sent them back to England on their own wings.
Visiting London? Learn much more about Bletchley Park and many other intrguing places nearby by checking out my new app for the iPad, iPhone, and iPod Touch: London Travel: a Guide to Great Day Trips. It's full of current, up-to-date information, special maps, day trips, walking tours, offbeat destinations, and much, much more.